Brokeness - A Look in The Mirror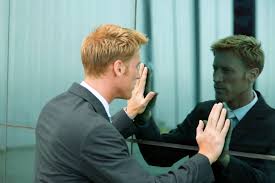 So, a friend is experiencing a brokenness in their marriage. It's heartbreaking to hear of how difficult it is. We usually ask simple questions when we're told of a problem such as, "what happened?" Hmmm, where do I start? It's a hard question to answer because it can be very complicated.
In any relationship we have choices, to overlook an offense, or walk away from a challenging relationship. But in marriage we vowed to stay together...in sickness and health, good times and bad...so, what HAPPENED? We stopped committing to our vow. We chose to ditch the contract for a better option.
As Christians we need to model the love of Christ. 1 Corinthians 13:4-8 says that love is kind, patient, not rude or arrogant, not self-seeking. We need to model His love with everyone. That includes with our spouses. Marriage is the ultimate relationship. And yet, it seems the relationship is so quickly dismissed when we have trouble. We're more willing to give up when our spouse won't change.
But that begs the question: have I looked in the mirror lately?
If my spouse is so awful to live with, could it be I am too? Could it be BECAUSE of me? Do I respond to conflict with harsh words, or gentle answers? Do I stir up anger, or turn away wrath, by my words? (Proverbs 15:1)
God holds the mirror to our face, through His Word. Look closely. You aren't the victim of a bad marriage. You're the PARTICIPANT in a breakdown of your marriage commitment.
If you're talking about sharing Jesus with total strangers, talk scripturally to church friends, attend bible studies, but have a broken marriage...your mirror is broken. We need to share Gods love at home first. Then go out and share. Otherwise we are nothing but hypocrites.
Today look at your spouse through Gods eyes. Christ died for them, just like for you. Look at yourself first. Practice grace. Because, OUR GOD LOVED US WHILE WE WERE STILL SINNERS! So shall we love our spouse.